BSU Student Named Venture Capital Fellow by HBCUvc
Computer Science Major Marissa Curry Prepares for a Career in the Venture Capital Industry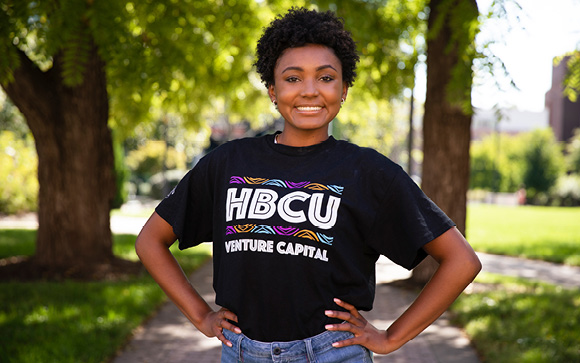 MEDIA CONTACT: Cassandra Robinson, crobinson@bowiestate.edu, 301-860-4336
(BOWIE, Md.) – Marissa Curry, a Bowie State University sophomore computer science major, is preparing to enter the work of venture capital as one of 62 students and alumni of Historically Black Colleges and Universities selected for a fellowship from HBCUvc, an innovation firm formed to develop the next generation of venture capital leaders in communities where entrepreneurs face barriers accessing capital.
The 2021 HBCU Venture Capital Fellows will be introduced to investors and fund managers across the venture capital space as part of an intensive training program to prepare them for careers in the industry. The program provides the framework for fellows to develop knowledge of how capital is formed and distributed to increase opportunities for Black and Latinx innovators.
"I am very excited to join the HBCUvc Fellows to learn more about launching and growing startup businesses," says Curry who is an ELLC Fellow in the BSU Entrepreneurship Academy. "I am very interested in FINTECH and this is an amazing opportunity to explore the related connections through venture capital."
Curry sees this as a valuable step in her journey as an entrepreneur that started with a dog-walking business when she was in the fourth grade. She now owns a candle business called @solsticexcandles, and is continuing to sharpen her entrepreneurial skills.
The HBCUvc Fellowship program provides a culturally affirming investor curriculum that teaches investment fundamentals and creates networking opportunities to open pathways into venture capital for African American, Latinx and indigenous populations.
Curry is the second BSU student to become an HBCUvc Fellow, joining Richard Clay who was a fellow in 2019. Clay is currently an investment partner with Dorm Room Fund, a student-run venture fund that provides start-up capital for student businesses.
###
About Bowie State University
Bowie State University (BSU) is an important higher education access portal for qualified persons from diverse academic and socioeconomic backgrounds, seeking a high-quality and affordable public comprehensive university. The university places special emphasis on the science, technology, cybersecurity, teacher education, business, and nursing disciplines within the context of a liberal arts education. For more information about BSU, visit bowiestate.edu.