Top Students Make Bold Moves After Graduation
Graduate Profiles Highlight Impact of Bowie State Education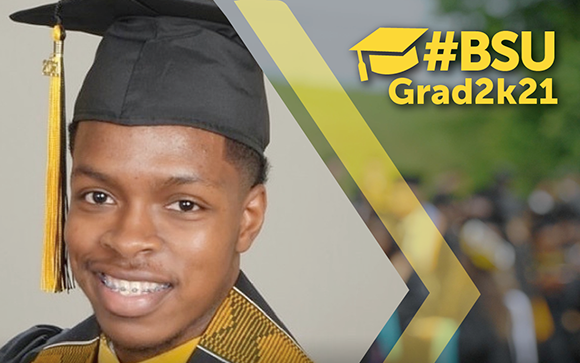 MEDIA CONTACT: Damita Chambers, dchambers@bowiestate.edu, 301-832-2628 mobile
(BOWIE, Md.) – Several top Bowie State University graduates are already taking impressive steps to launch their careers ahead of the May 21 hybrid commencement, demonstrating the value of a BSU education.

While this past academic year presented unimaginable challenges during the COVID-19 pandemic, outstanding students found the strength to persevere and exceed expectations. In the days leading up to May 21, the achievements of a few select graduates will be highlighted on the Bowie State commencement website, honoring their journey and successes.

Aahna Reynolds, a child & adolescent studies major, is preparing to start her career in child therapy with a job at a local organization that serves youth with autism. Guidance from her professors guided her to identify her ultimate career goal, and she discovered her passion.

"Bowie State is the first school where I soared," she said. "It's the first place where I felt at home and where I felt like, 'This is my school.'"

Thaddaeus Peay-Gardner, a communications major, found his calling to help teach and mentor the next generation of students through his involvement with Ignite, a mentoring group for male Bowie State students. After graduation, he is pursuing a Master of Education degree, with a focus on secondary education, at Cabrini University in Pennsylvania, where he was recently honored with the Moral and Courageous Student Leader Equity Award.

"My education at Bowie State University has empowered me to empower others in my community," Peay-Gardner said. "I thank God for Bowie State University. It has made me into the person I am today."

These inspirational stories of top graduates illustrate how they are prepared to make a difference in the world because of their transformative experience at Bowie State.
###
About Bowie State University
Bowie State University (BSU) is an important higher education access portal for qualified persons from diverse academic and socioeconomic backgrounds, seeking a high-quality and affordable public comprehensive university. The university places special emphasis on the science, technology, cybersecurity, teacher education, business, and nursing disciplines within the context of a liberal arts education. For more information about BSU, visit bowiestate.edu.