HBCU/MI Pathways Network Creates Pipeline for High School and Community College Students
Bowie State University Joins STEM Education Consortium to Increase Access to Technical STEM Talent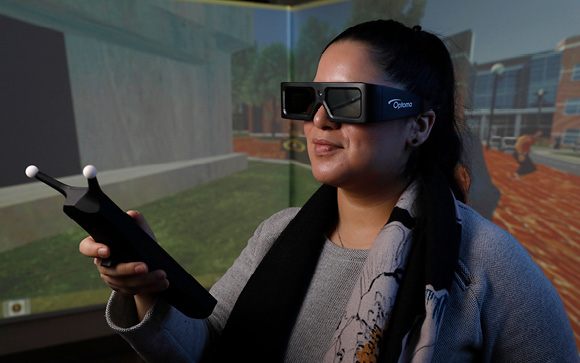 MEDIA CONTACT: Cassandra Robinson, crobinson@bowiestate.edu, 301-860-4336
(BOWIE, Md.) – Prince George's County students can now get an early start on a path to a career in science, technology, engineering or mathematics through the partnership of Bowie State University (BSU) with Prince George's Community College (PGCC) to develop a STEM Student Learning Community that connects Prince George's County Public Schools (PGCPS) STEM students to the two institutions.
The partnership, funded by the U.S. Department of Defense Science, Technology, Engineering, and Mathematics (DoD STEM) through the Defense STEM Education Consortium (DSEC), is an effort to create and strengthen the HBCU/MI Pathways Network, which are STEM feeder pathways between community colleges and four-year educational institutions. The program aims to broaden STEM literacy and develop a diverse and agile future workforce for the nation.
"The HBCU/MI Pathways Network is a wonderful program that develops a STEM Student Learning Community that connects Prince George's County Public Schools and BSU students," said Dr. Hoda El-Sayed, professor, BSU Department of Computer Science. "Having this community will allow BSU to expose the high school students to opportunities available at PGCC and BSU. Our hope is to attract PGCC and PGCPS students to Bowie State by showing them the engagement and experiences available with the program."
Currently, there are 15 students in the program at BSU. They are provided resources such as tutors, mentors, laptops, and transportation, and take part in conferences and seminars where they can engage with scientists. The ultimate goal is to prepare students to meet the current demands of the workforce with the necessary skillset and have something tangible, whether it's a four-year degree or a certificate.
"I definitely like the program. I like learning about the opportunities that we're engaged in and the activities such as the C++ coding boot camp I'm planning to attend," said Ashanti Boone, first semester freshman at Bowie State majoring in computer science. "This boot camp will help me become familiar with the coding language, because the more I do it, the better I'm going to get at it. It's always nice to hear reiterations of it. For example, one teacher can tell you one thing and then you can learn about something in another way like with the boot camps. And I think that's really cool."
As a resident of Mitchellville, Md., Ashanti transferred to the university in fall 2021 from Prince George's Community College where she earned a certificate in Network+. She's now on track to earn a Bachelor of Science degree in computer science by May 2024. Although she's currently undecided, she has a desire to work in either cyber security, data science, or software design upon graduating.
"Early exposure to STEM careers enables students to see scientists who look like them – minorities and women – who are doing actual STEM research. Therefore, we have to maintain the students' interest in continuing the program," said Dr. El-Sayed.
The HBCU/MI Pathways Network is an academic and workforce development program implemented at BSU in fall 2021 to advance post-secondary educational and career outcomes for minority students. Special emphasis is placed on attracting women and students interested in Bowie State's military program to inform their decisions related to career paths before they select a major or college.
Through the Defense STEM Education Consortium, Bowie State and Prince George's Community College developed a Professional Learning Community to connect their faculty with STEM teachers from the surrounding high schools. The goal is to align their computer science courses and create clear pathways for students to progress through their institutions and ultimately graduate with four-year STEM degree This program supports the DSEC fundamentals, which align with the DoD STEM Strategic Plan and the Federal STEM Strategic Plan to assure a diverse talent pool to maintain the nation's competitive advantage.
###
About Bowie State University
Bowie State University (BSU) is an important higher education access portal for qualified persons from diverse academic and socioeconomic backgrounds, seeking a high-quality and affordable public comprehensive university. The university places special emphasis on the science, technology, cybersecurity, teacher education, business, and nursing disciplines within the context of a liberal arts education. For more information about BSU, visit bowiestate.edu.


About Defense STEM Education Consortium
The Defense Science, Technology, Engineering and Mathematics Education Consortium (DSEC) is a collaborative partnership between academia, industry, not-for-profit organizations and government that aims to broaden STEM literacy and develop a diverse and agile workforce with the technical excellence to defend our nation. By addressing and prioritizing critical STEM challenges, DoD is investing in evidence-based approaches to inspire and develop the nation's science and technology workforce. DSEC is an effort under the department-wide programs under DoD STEM which offers educational programs, internships and scholarships for students and many career development opportunities for educators. To learn more, visit https://dodstem.us and follow @DoDSTEM on social media.