Natural Sciences Research Showcase Highlights Student Excellence
Students Grow as Scientists in Course-based Undergraduate Research Experiences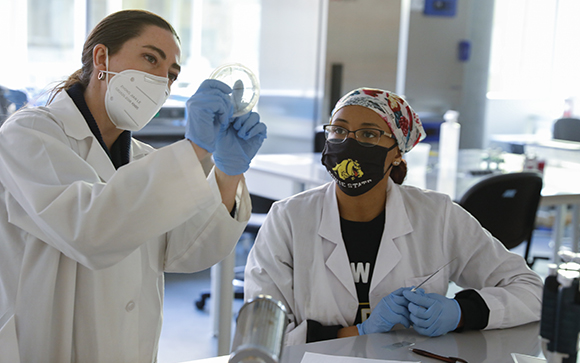 MEDIA CONTACT: Damita Chambers, dchambers@bowiestate.edu, 301-832-2628 mobile
(BOWIE, Md.) – Hands-on scientific inquiry is the hallmark of an exceptional STEM education. Bowie State University's Course-based Undergraduate Research Experiences (CURE) program provides that pivotal experiential learning to hundreds of natural sciences majors every semester.

On Friday, May 7 from 1-4 p.m., students from a sample of the semester-long projects, including some on timely topics like antibiotic resistance, will present their findings in a virtual Spring 2021 CURE Research Symposium, hosted by the Department of Natural Sciences. In total, about 240 CURE students worked with expert faculty researchers in spring 2021. Register to attend the symposium: bit.ly/Spring2021CURE.

The innovative CURE program incorporates research within a class, so that everyone participates in scientific discovery. The annual symposium celebrates undergraduate research, with student presenters selected to represent an entire class and showcase research in the Department of Natural Sciences.

CURE program coordinator Dr. Chimdimnma Esimai says that this year's selected projects include new focus areas and projects that tackle timely topics, as well as the culmination of research by different sets of students over time. In a time when fears of antibiotic overuse is on the rise, Dr. Kari Debbink's study assesses how bacteria that are resistant to a drug, used to treat pneumonia, may contribute to the spread of antibiotic resistant genes. A new focus area in field biology, led by Dr. Anne Wiley, stems from a collaboration with the Patuxent Refuge to study how human interaction with local ecosystems are possibly changing them.

A long-range metagenomics study, led by department chair Dr. George Ude, includes analysis of soil samples taken from the BSU campus, combining the work of students over four semesters. The project's aim is to determine the seasonal change in the soil's microbial diversity.

Despite the challenges of the COVID-19 pandemic, Dr. Esimai says the students were excited to participate in research this semester and are ready to share what they learned.

"It gave them a way to collaborate with their peers and experience close mentorship from faculty," said Dr. Esimai. "They are able to remain in the STEM pipeline and continue to learn, even with the changes that are happening globally."

The selected projects for the Spring 2021 symposium are:
Antibiotic Resistance (Faculty Mentor: Dr. Kari Debbink)
Project Title: Assessing the Prevalence of Antibiotic Resistance in the Environment: PARE
Student Presenters: Traleia McCorkle and Emani Strickland-Elliott
Applied Biotechnology (Faculty Mentor: Dr. Supriyo Ray)
Project Title: Cloning of Staphylococcus aureus derived EsxB Protein for Structural and Functional Studies
Student Presenters: Dajia Edwards and Rahmat Husain
Bioinformatics (Faculty Mentor: Dr. Konda Reddy Karnati)
Project Title: Exploring HIV-1 Integrase and Human LEDGF/p75 protein-protein interaction through computational studies
Student Presenters: Chisom Obasi and Simone Olubo
DNA Barcoding (Faculty Mentor: Dr. Mary Glover)
Project Title: Bird Species Richness is Not Affected by Human Land Use in Prince George's County Parks
Student Presenters: Ibrahim Aziz, Chermai Busby and Renée Taylor
Drug Discovery (Faculty Mentor: Dr. Jacqueline Smith)
Project Title: Effect of Physiochemical Properties on VCP efficacy
Student Presenters: Ines Kenhoung and Yaye Se
Field Biology (Faculty Mentor: Dr. Anne Wiley)
Project Title: Dietary competition and diet-based color signals in freshwater turtles: Starting a New CURE in Field Biology
Student Presenters: Bisola Akindolire, Alexa Dragon, Deborah Onyia, Kiasha Samuels, Joan Sobo and Kristin Wood
Genetic Engineering (Faculty Mentor: Dr. Supriyo Ray)
Project Title: Predicting and Analyzing mRNA Sequences for SARS-COV-2 Mutants for mRNA based Vaccine Design
Student Presenters: Benvindo Chicha and Joan Sobo
Genetics (Faculty Mentor: Dr. Tyesha Burks)
Project Title: Investigating the Role of Cholesterol on Coronaviruses
Student Presenters: Chartise Logan and Kamsi Nebo
Metagenomics (Faculty Mentor: Dr. George Ude)
Project Title: Longitudinal Study of Seasonal Effects on Soil Microbial Communities at Bowie State University Campus Using Metagenomics Approach
Student Presenters: Benvindo Chicha, David Miller, Ruth Sam and Joan Sobo
###
About Bowie State University
Bowie State University (BSU) is an important higher education access portal for qualified persons from diverse academic and socioeconomic backgrounds, seeking a high-quality and affordable public comprehensive university. The university places special emphasis on the science, technology, cybersecurity, teacher education, business, and nursing disciplines within the context of a liberal arts education. For more information about BSU, visit bowiestate.edu.