Center for Black Males Makes Strides to Diversify Educator Workforce
Black Male Youth Get a Window into Their Future in Education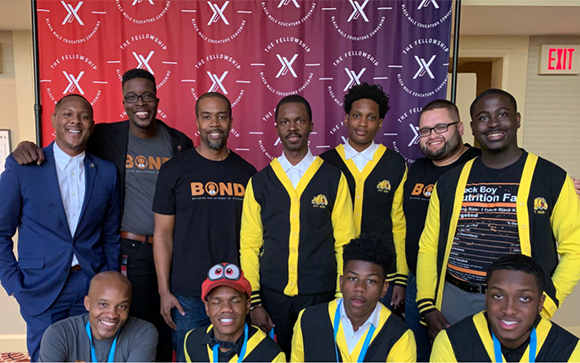 MEDIA CONTACT: Damita Chambers, dchambers@bowiestate.edu, 301-832-2628 mobile
(BOWIE, Md.) – Growing up, Dr. Julius Davis had few Black male educators. Now, the Bowie State University education professor is trying to change that experience for generations of students by encouraging more Black male students to consider the education profession, where Black males only represent 2 percent of the U.S. teacher workforce.

"I want young people who want to become educators to see Bowie State's male educators and to see themselves at Bowie State," said Dr. Davis, founding director of the university's Center for Research & Mentoring of Black Male Students & Teachers. "That is what we provide to our high school students, many of whom never had a Black male educator, so the Black Male Teachers College is their first time having a Black male educator. But they don't just have one – they have an opportunity to engage with a wide spectrum of Black men in a way that they never have in their K-12 experience."

Since it began in 2019, the center has attracted Black male high school students from around the country to the teaching profession, strengthened Bowie State's Black male educator network and produced research on Black males in the classroom. Dr. Davis envisioned the center as a nationally recognized model for research and best practices for Black male students and educators. With the help of his leadership team, Dr. Davis is turning that vision into reality.

Despite the COVID-19 pandemic, the center reached new milestones. More than 50 Black male high school students from around the country joined the virtual Black Male Teachers College, introducing them to the teaching profession. The virtual Black Male Teacher Speaker Series celebrated the professional excellence of 12 Black male educators in Maryland, who were named teachers of the year in their school districts. Four of the speakers are either Bowie State graduates or current Bowie State candidates in the Ed.D. in educational leadership program.
The center also generated more educational research, with the Faculty Fellows publishing articles and books, including one released in 2021 that Dr. Davis co-authored with other prominent educators, "Black Males Matter: A Blueprint for Creating School and Classroom Environments to Support Their Academic and Social Development." The center's leaders and collaborators also participated in the Maryland State Board of Education's Task Force on Achieving Academic Equity and Excellence for Black Boys, which presented recommendations this spring to improve student success.

"We are trying to encourage educators – teachers, counselors and administrators – to operate from a more strengths-based and asset-based perspectives with Black male students, instead of always thinking of them in terms of deficits and problems," said Dr. Davis. "My long-term vision for the center is that you'll see us as a model of not only research and theory, but also practice."

The center is already making a difference. High school students in the Black Male Teachers College get to envision themselves in the field of education, which shapes their future career choices. Alontae Elliott's experience in the spring 2020 cohort impacted him so much that he decided to enroll at Bowie State and join the center's leadership team to help fuel the transformation of other Black male students. He is now a rising sophomore history major, with a concentration in secondary education.

"This program is so important because it allows our youth to be able to identify themselves with a different style of education – to see the stylistic differences of how we maneuver a classroom or a space, being able to be inspired or mentored by Black male teachers and get to consider the field of education for the first time," said Elliott.
###
About Bowie State University
Bowie State University (BSU) is an important higher education access portal for qualified persons from diverse academic and socioeconomic backgrounds, seeking a high-quality and affordable public comprehensive university. The university places special emphasis on the science, technology, cybersecurity, teacher education, business, and nursing disciplines within the context of a liberal arts education. For more information about BSU, visit bowiestate.edu.