National Experts Address Black Community's COVID-19 Concerns
Black Healthcare Panelists Discuss Vaccines, Mental Health & Other Issues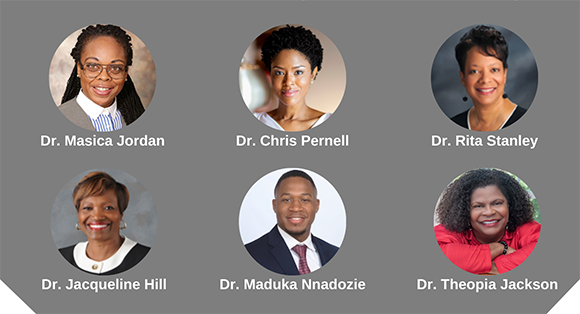 MEDIA CONTACT: Damita Chambers, dchambers@bowiestate.edu, 301-832-2628 mobile
(BOWIE, Md.) – Nationally recognized healthcare experts, including a foremost authority on mental health in the Black community, will address COVID-19 concerns within the Black community at a virtual town hall on Wednesday, March 10 at 8 p.m., hosted by Bowie State University's Graduate Student Association. View it live on Bowie State's YouTube channel: http://bit.ly/BSUCovidTownHall. The event will also be livestreamed on national journalist Roland Martin's YouTube channel and Facebook pages.

Dr. Theopia Jackson, president of the Association of Black Psychologists and chairperson of the clinical psychology degree program at Saybrook University, will be joined by the following medical and mental health experts:
Dr. Jacqueline Hill, chairperson of Bowie State University's Department of Nursing, who is a veteran nurse leader and educator
Dr. Masica Jordan, a licensed clinical professional counselor and Bowie State University professor and graduate, who specializes in substance use disorders
Dr. Maduka Nnadozie, a physician and Bowie State University graduate, who works on COVID-19 clinical trials
Dr. Chris Pernell, a dynamic physician who is a leading voice in preventive medicine and public health
Dr. Rita Stanley, a certified internist with a private practice focused on functional medicine
A virtual COVID-19 town hall, hosted by Bowie State University, will include a panel discussion, addressing the vaccine options, hesitancy to get the vaccine, mental wellness and other COVID-19-related concerns in the Black community. Blacks continue to be disproportionately affected by COVID-19 in the United States, experiencing more severe health outcomes, deaths, mental health problems and other complications.
"COVID-19 has placed a spotlight on the health inequities that have beset black and brown communities for decades," said Dr. Jackson. "One of the most alarming facts is that COVID-19 has exacerbated the rise in anxiety, depression, and suicides among black youth in the backdrop of complex trauma and stress experienced by those who care for them. If it takes a village to raise a child, well, the village is hurting. We must work together immediately for the future of our children."
The BSU Graduate Student Association organized the event to provide a forum for the public to hear from healthcare experts about how to keep themselves and their loved ones safe during the COVID-19 pandemic.
"Our panelists will provide important COVID-19 information to the virtual town hall attendees that will be fact and evidence based to counter the deluge of misinformation and distrust that has been embedded in the African American community from various social media sites and through word of mouth," said David Thompson, the event's organizer and the BSU Graduate Student Association's director of fiscal operations. "Ultimately, we want Black people around the nation to understand that they need to get vaccinated with one of the three FDA-approved vaccines that are available, continue wearing masks and remain socially distanced to protect themselves and their families, particularly with the emergence of the U.K., South African, Brazilian and other COVID-19 mutations."
###
About Bowie State University
Bowie State University (BSU) is an important higher education access portal for qualified persons from diverse academic and socioeconomic backgrounds, seeking a high-quality and affordable public comprehensive university. The university places special emphasis on the science, technology, cybersecurity, teacher education, business, and nursing disciplines within the context of a liberal arts education. For more information about BSU, visit bowiestate.edu.