Cybersecurity & Entrepreneurship Leader Pipeline Gets a Boost with Endowed Chair
$500k in Matching Funds from Maryland Department of Commerce to Support Professorship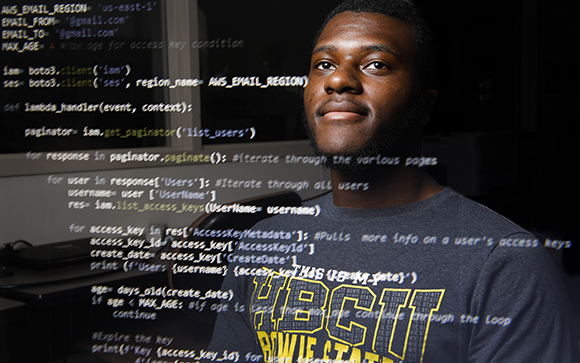 MEDIA CONTACT: Damita Chambers, dchambers@bowiestate.edu, 301-832-2628 mobile

(BOWIE, Md.) – A new endowed cybersecurity chair position will be established at Bowie State University to accelerate the institution's efforts to support students and graduates equipped to generate new innovation in the profession, thanks to $500,000 in matching funds from the Maryland Department of Commerce.

Through the Maryland E-Nnovation Initiative Fund, a state program for STEM research at colleges and universities, Bowie State University will establish an endowed chair of cybersecurity, who will serve as the director of the Center for Cybersecurity and Emerging Technologies in the Department of Computer Science.

"Bowie State University is grateful for the Maryland E-Nnovation award that will help enable us to launch the first endowed chair position in the history of this institution," said Associate Provost Guy-Alain Amoussou. "Cybersecurity and entrepreneurship represent two areas of strength at Bowie State University, and the creation of this endowed chair position will contribute to build a pipeline of cyber entrepreneurs who will contribute to the economic development of the region."

The initiative will create a Bowie State ecosystem of cyber innovators, infuse entrepreneurship and technology in the STEM curriculum, and enhance Bowie State's pipeline of students from traditionally underrepresented communities to become cybersecurity and entrepreneurship leaders.

"The past year has shown us time and time again why innovative thinking and creative new ideas are essential to Maryland's economic prosperity. We can never be sure what obstacles life will throw in our path," said Maryland Commerce Secretary Kelly M. Schulz. "By supporting these professorships, Commerce is helping make sure that some of the sharpest minds in Maryland continue their important work."

The Maryland E-Nnovation Initiative was created by the General Assembly during the 2014 legislative session and has provided more than $54.3 million in funding to leverage more than $60.6 million in private donations.
###
About Bowie State University
Bowie State University (BSU) is an important higher education access portal for qualified persons from diverse academic and socioeconomic backgrounds, seeking a high-quality and affordable public comprehensive university. The university places special emphasis on the science, technology, cybersecurity, teacher education, business, and nursing disciplines within the context of a liberal arts education. For more information about BSU, visit bowiestate.edu.

About Maryland Commerce
The Maryland Department of Commerce stimulates private investment and creates jobs by attracting new businesses, encouraging the expansion and retention of existing companies, and providing financial assistance to Maryland companies. The Department promotes the State's many economic advantages and markets local products and services at home and abroad to spur economic development and international investment, trade and tourism. Because they are major economic generators, the Department also supports the Arts, film production, sports and other special events. For more information, visit commerce.maryland.gov.