Vaccine Education Forum & Campus Clinic Support MD Campaign
Maryland Vaccine Equity Task Force Leader to Participate in Public Forum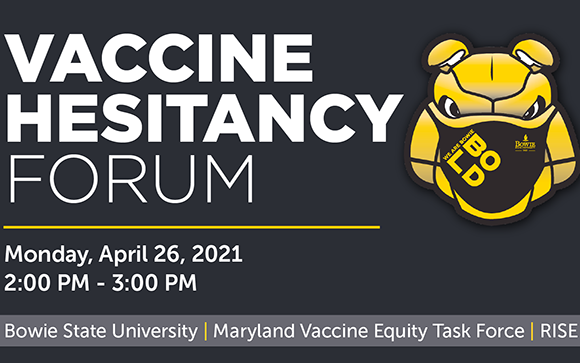 MEDIA CONTACT: Damita Chambers, dchambers@bowiestate.edu, 301-832-2628 mobile
(BOWIE, Md.) – As the state of Maryland announced today that more than 4 million residents have received the COVID-19 vaccine, Bowie State University is hosting a vaccination clinic for students and employees and a public forum on vaccine hesitancy in the African American community, featuring the head of the Maryland Vaccine Equity Task Force. Both events support Governor Larry Hogan's "No Arm Left Behind" campaign, just revealed today, to ensure that every Marylander who wants a COVID-19 vaccine can get one.

Bowie State is partnering with Maryland GoVax to host the university's first COVID-19 vaccination clinic for BSU campus members only on Monday, April 26 from 10 a.m. – 2 p.m. in the Student Center, Wiseman Ballroom. A limited number of appointments are available on a first-come, first-served basis by signing up in the Wellness Center portal by Friday, April 23 at 9 a.m.

The Vaccine Hesitancy Forum on Monday, April 26 from 2-3 p.m. engages medical and public health experts in a discussion to address concerns and myths related to the COVID-19 vaccines. The event will be livestreamed to reach a large audience. The featured speakers include:
These efforts to educate the community about the COVID-19 vaccines and help more Bowie State community members are part of the university's ongoing commitment to promote safety as a #1 priority during the pandemic.
###
About Bowie State University
Bowie State University (BSU) is an important higher education access portal for qualified persons from diverse academic and socioeconomic backgrounds, seeking a high-quality and affordable public comprehensive university. The university places special emphasis on the science, technology, cybersecurity, teacher education, business, and nursing disciplines within the context of a liberal arts education. For more information about BSU, visit bowiestate.edu.