Education Programs Win National Honor for Excellence in School Partnerships
Award Marks BSU's 2nd Recognition by National Association for Professional Development Schools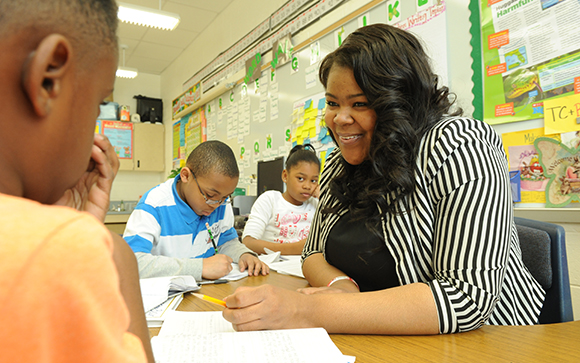 MEDIA CONTACT: Damita Chambers, dchambers@bowiestate.edu, 301-832-2628 mobile

(BOWIE, Md.) – For the second time, Bowie State University's education programs were honored as one of the nation's best examples of innovative partnerships with local public schools that prepare students to become effective educators, even in virtual classrooms.

Maryland's first historically Black college and university (HBCU), Bowie State is the only HBCU to ever win the Exemplary Professional Development School Achievement Award from the National Association for Professional Development Schools (NAPDS). The NAPDS presented the 2021 award to Bowie State and three other universities on March 30 during its virtual annual conference.

Bowie State first won the award in 2015, but this year's honor is particularly special, given the obstacles many educators and student interns faced with a shift to virtual learning during the COVID-19 pandemic. Solid relationships within Bowie State's Professional Development Schools (PDS) network, built over more than 20 years, eased the move to online instruction.

"We already had done the hard work of creating a strong PDS network, and that helped us to transition to the new environment more easily than a lot of other universities," said Dr. Eva Garin, coordinator of Bowie State's PDS program. "I am so proud of our students, the teachers we work with and the colleagues in my department."

Bowie State's PDS network includes nine public schools in Prince George's and Anne Arundel counties that host undergraduate student interns from BSU's elementary education, early childhood/special education and secondary education programs. In their yearlong placements with a PDS partner, student interns explore models of effective teaching and learning through mentoring, targeted professional development and best-practice sharing between PDS partners. All student interns also complete action research in their mentor teacher's classroom and present their findings to a panel of education experts, which advances the profession.

Unique features of Bowie State's signature PDS program include: a three-tiered leadership program for educators who want to become mentors, a focus on culturally responsive teaching, rigorous assessment of interns' performance, mentoring for interns in a virtual environment, and a host of scholarly publications written by BSU faculty and PDS educators.
###

About Bowie State University
Bowie State University (BSU) is an important higher education access portal for qualified persons from diverse academic and socioeconomic backgrounds, seeking a high-quality and affordable public comprehensive university. The university places special emphasis on the science, technology, cybersecurity, teacher education, business, and nursing disciplines within the context of a liberal arts education. For more information about BSU, visit bowiestate.edu.