Bowie State University Hosts First HBCU Entrepreneurship Conference
Shark Tank's Daymond John to Share Keys to Successful Start-ups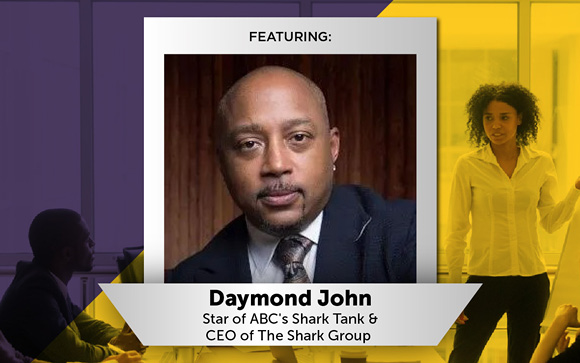 HBCU Entrepreneurship Conference Registration
MEDIA CONTACT: Cassandra Robinson, crobinson@bowiestate.edu, 301-860-4336
(BOWIE, Md.) – What does it take to become a successful entrepreneur? Daymond John, founder of the iconic fashion brand FUBU and a Shark on the 4-time Emmy Award winning "Shark Tank," will join a host of other successful business leaders to answer that question for more than 400 entrepreneurship educators and students from Historically Black Colleges and Universities during Bowie State University's inaugural HBCU Entrepreneurship Conference Sept. 30 - Oct. 1.
The virtual conference aims to strengthen the HBCU entrepreneurial ecosystem to provide a foundation for wealth building in the African American community. Faculty, student entrepreneurs, and campus and community entrepreneur champions from HBCUs across the country will learn and share best practices, opportunities and resources to develop an entrepreneurial mindset among the next generation of future leaders. Sponsored by Truist, the conference is free to participants, but registration is required.
"This event will empower people to help foster their entrepreneurial spirit," said Johnetta Boseman Hardy, Executive Director, BSU Entrepreneurship Academy. "Bowie State is boldly paving the way to prosperity by laying the foundation and building a knowledge base."
Several renowned entrepreneurs will serve as keynote speakers including Eddie and Sylvia Brown of Brown Capital Management, rapper and entrepreneur mogul Percy "Master P" Miller and founder of Black Girl Ventures, Shelly Bell along with serial entrepreneur and author John Hope Bryant who is also the founder and CEO of Operation Hope, Inc.
A student marketplace segment on day one of the conference will allow current students and recent HBCU alumni to showcase their entrepreneurial ventures. Bowie State graduate, Luke Lawal, Jr. ('12), HBCU Buzz Founder and CEO will be keynote speaker for this segment.
Conference attendees will have the opportunity to choose from seven 50-minute conference tracks to help improve their day-to-day teaching, enhance their entrepreneurial ecosystem, and get ideas that lead to collaborative opportunities. Conference tracks include E-Ship STEAM Ideation, Entrepreneurship Research & Development, E-Ship Best Practices in Teaching Across Curriculums, and Experiential Learning to Develop the Entrepreneurial Mindset.
"Our conference will bring to the forefront the challenges that African Americans face in the entrepreneurship space and resources to address them," said Hardy.
###
About Bowie State University
Bowie State University (BSU) is an important higher education access portal for qualified persons from diverse academic and socioeconomic backgrounds, seeking a high-quality and affordable public comprehensive university. The university places special emphasis on the science, technology, cybersecurity, teacher education, business, and nursing disciplines within the context of a liberal arts education. For more information about BSU, visit bowiestate.edu.