BSU Virologist Educates Public about COVID-19
Dr. Kari Debbink Uses Her Expertise in American Society of Virology's Education Initiative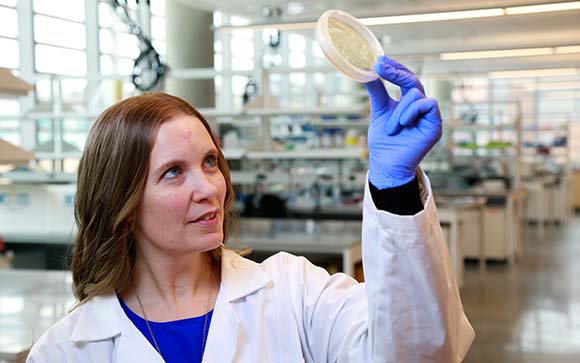 MEDIA CONTACT: Damita Chambers, dchambers@bowiestate.edu, 301-832-2628 mobile
(BOWIE, Md.) – Dr. Kari Debbink is using her experience studying the virus that causes COVID-19 disease to help people protect themselves and their loved ones.

That's why the Bowie State University biology professor and virologist has joined a team at the American Society of Virology on a COVID-19 vaccine education initiative, in conjunction with the American Society of Microbiology. The initiative will soon launch a series of virtual forums with expert panelists to answer questions from the public.
Dr. Debbink understands that people have many questions, including about the vaccine's safety amid news of side effects and why the federal safety guidance has changed over time. Even as several states start to ease COVID-19 restrictions and the Centers for Disease Control & Prevention reports that more than 32 million people in the U.S. have been fully vaccinated, Dr. Debbink knows that a lot of questions remain.
For those who question the effectiveness of a vaccine approved for public use in less than a year, Dr. Debbink says all required steps took place in approving the COVID-19 vaccines. Because the Food & Drug Administration (FDA), taxpayer spending and pharmaceutical companies all prioritized the COVID-19 vaccines because of the pandemic, she says those factors contributed to how quickly the vaccines were developed, tested and approved.
"The fact that the three vaccines from Pfizer, Moderna and now Johnson & Johnson have all received FDA emergency use authorization says that all of the data that came from the clinical trials – in which tens of thousands of people participated – demonstrated that the vaccines are effective and generally safe," she said.
Today I received the second dose of my COVID-19 vaccination as president of @bowiestate. I am #ProudToBeProtected. I urge everyone to get the vaccine when they are eligible. Learn more about the vaccine from @PGCHealth. > https://t.co/SekEDt86uP pic.twitter.com/PHh30iT4DX

— Dr. Aminta H. Breaux (@PresBreaux) March 3, 2021
Dr. Debbink also points to about 20 years' worth of research on coronaviruses that scientists used to inform the design of the approved vaccines. That research included studies on the virus that causes SARS disease, which appeared in 2002 in China and spread worldwide before being quickly contained.
For those who are frustrated with often conflicting safety guidance throughout the pandemic, Dr. Debbink encourages people to trust the scientists, who are making their best recommendations based on what they know about the virus.
"That's the way that science work. It's really an iterative process where as you learn, you change your processes and behaviors based on that new information," she said. "I think normally when people are hearing about scientific data, they see it as pretty much a done deal or the final verdict. In some cases, it's because whatever they are hearing about has been studied over several years. When you have an emerging virus, it's a little different."
Dr. Debbink admits that her own ideas about the virus have changed over time because of new information that has emerged from scientific community.
"When you have a brand new virus, every day you are learning new information," she said. "Now that we know better, we do things differently. With each piece of information that we get, we can make better decisions about how we should behave."
###
About Bowie State University
Bowie State University (BSU) is an important higher education access portal for qualified persons from diverse academic and socioeconomic backgrounds, seeking a high-quality and affordable public comprehensive university. The university places special emphasis on the science, technology, cybersecurity, teacher education, business, and nursing disciplines within the context of a liberal arts education. For more information about BSU, visit bowiestate.edu.