Bowie State University Awarded $1M NSF Grant
New Data Science Institute on the Horizon for Doctoral Students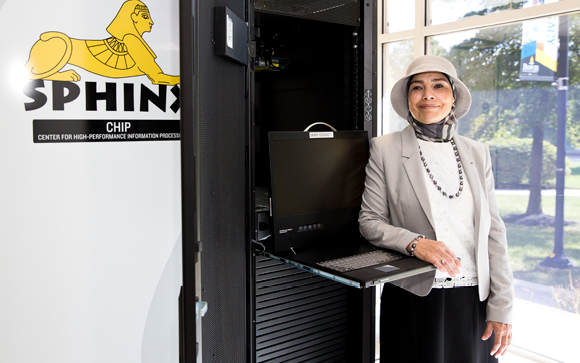 MEDIA CONTACT: Cassandra Robinson, crobinson@bowiestate.edu, 301-860-4336
(BOWIE, Md.) – In response to the growing global need for professionals and academics in the field of computer science to support innovation and build capacity in STEM disciplines, the National Science Foundation (NSF) has awarded Bowie State a $1 million grant through the Historically Black Colleges and Universities Research Infrastructure in Science and Engineering (HBCU-RISE) program to implement a new High-Performance Intelligent Data Science Institute (HIDI).
The funding will enable BSU to expand the doctoral program in the Department of Computer Science and create a new specialization in high-performance data science. Dr. Hoda El-Sayed, BSU computer science professor project lead, explained that the need for High-Performance Computing (HPC) capacity has become essential to facilitate efficient analysis of data across diverse fields and Bowie State's Cray X40 supercomputer is well suited for such deep learning and intensive data computing. The Cray was specifically designed to extract extremely large data sets that may be analyzed to reveal patterns, trends, and associations related to human behavior and interactions.
"Data science is interdisciplinary and in demand, and therefore our doctoral students will graduate with a discipline that is state-of-the-art," said Dr. El-Sayed. "Pursuing this specialization will give students a better chance at landing a good job where they will be able to command their own salaries, because it's a new trend and a lot of employers are asking for this."
The High-Performance Data Science Institute will be developed over the course of a year with new courses in high-performance and data science to be implemented in 2022. New and existing doctoral students will be eligible to pursue the specialization. Students will be offered research opportunities in addition to writing code, developing software and processing large amounts of data using the Cray X40 supercomputer.
The institute will also advance the goal of retention and recruiting more students into the doctoral program to increase the number of underrepresented minority students and women who attain a doctorate degree in computer science. BSU students who've earned a master's degree in computer science will be targeted to take part in the program.
###
About Bowie State University
Bowie State University (BSU) is an important higher education access portal for qualified persons from diverse academic and socioeconomic backgrounds, seeking a high-quality and affordable public comprehensive university. The university places special emphasis on the science, technology, cybersecurity, teacher education, business, and nursing disciplines within the context of a liberal arts education. For more information about BSU, visit bowiestate.edu.