Global Leader and SHRM President Johnny C. Taylor, Jr. to Address Bowie State University Graduates
About 600 Students Set to Receive Their Degrees at Winter Commencement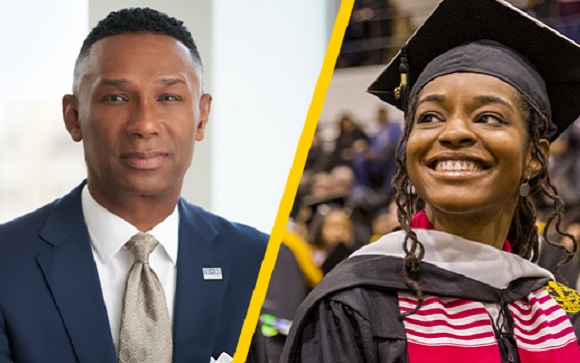 MEDIA CONTACT: Cassandra Robinson, crobinson@bowiestate.edu, 301-860-4336
(BOWIE, Md.) – Johnny C. Taylor, Jr., president and CEO of the Society for Human Resource Management (SHRM) will address approximately 600 Bowie State University graduates at the Winter Commencement on Wednesday, December 22, 2021, at 10 a.m. in the AC Jordan Arena, Leonidas S. James Physical Education Complex. An Honorary Doctor of Humane Letters degree will also be awarded to Mr. Taylor.
In accordance with the university's COVID-19 protocol, guests must show proof of vaccination to enter the ceremony and masks are required inside at all times. To limit overcrowding of the venue, each graduate will receive two tickets for guests to limit the potential spread of COVID-19. Remote viewing locations will be available on campus for additional guests. The live ceremony can be viewed online at bowiestate.edu/commencement.
As president of SHRM, Mr. Taylor leads a global organization of more than 300,000 members in 165 countries—the largest HR professional association in the world, impacting the lives of 115 million workers.
Mr. Taylor is the former president and CEO of the Thurgood Marshall College Fund. With a career span of more than 20 years as a lawyer, human resources executive and CEO, he has held senior and chief executive roles at IAC/Interactive Corp, Viacom's Paramount Pictures, Blockbuster Entertainment Group, the McGuireWoods law firm, and Compass Group USA.
As a global leader on the future of employment, culture and leadership, Mr. Taylor was appointed chairman of the President's Advisory Board on Historically Black Colleges and Universities and served as a member of the White House American Workforce Policy Advisory Board during the Trump Administration. He is a Trustee of the University of Miami, Governor of the American Red Cross, and member of the corporate boards of Guild Education, iCIMS, and XPO Logistics.
He is also the author of the national bestseller, RESET: A Leader's Guide to Work in an Age of Upheaval, which delivers a candid and forward-thinking vision for leaders to reimagine their company cultures in a time of global upheaval and presents data-driven strategies to make the necessary foundational reset of all things work.
In 2020, Mr. Taylor received the Distinguished Executive of the Year Award from the Academy of Management, and was named 2021 ALA Professional Society CEO of the Year by CEO Update.
###
About Bowie State University
Bowie State University (BSU) is an important higher education access portal for qualified persons from diverse academic and socioeconomic backgrounds, seeking a high-quality and affordable public comprehensive university. The university places special emphasis on the science, technology, cybersecurity, teacher education, business, and nursing disciplines within the context of a liberal arts education. For more information about BSU, visit bowiestate.edu.