Student Artists Shine in Virtual Senior Exhibition
Graduating BSU Seniors Express Their Creativity in Digital Gallery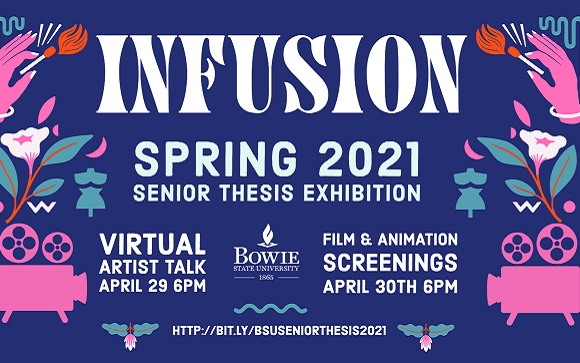 MEDIA CONTACT: Damita Chambers, dchambers@bowiestate.edu, 301-832-2628 mobile

(BOWIE, Md.) – Bowie State University art students, whose creative expressions reflect their perspectives on mental health and wellness, showcase their work in the virtual Senior Art Exhibition, which launched today and runs through May 20. Meet the students at the Virtual Artist Talk on Thursday, April 29 at 6 p.m. and the Film & Animation Screening on Friday, April 30 at 6 p.m. View the exhibition online: bit.ly/BSUSeniorExhibition.

Twenty-one seniors in the fine arts, studio art concentration, and visual communication and digital media arts (VCDMA) degree programs are exhibiting their thesis projects in a virtual gallery. Through short films, animations, advertising design, fashion, studio art and photography, the exhibition explores the young artists' experiences and contemplations that were shaped by the COVID-19 pandemic.

"Their sense of mission for self-care, providing engagement through art to help others cope with current realities, and speaking up and out on issues of concern was intensified," said Gina Lewis, studio art coordinator and Gallery of Fine art coordinator, in her curatorial statement about the exhibition.

With a move to remote learning due to the pandemic, faculty in the Department of Fine & Performing Arts created virtual experiences for the students to exhibit their artwork and engage with the public. The virtual gallery and arts events have the potential to reach more people than on-campus exhibitions at the Gallery of Fine Art, which usually hosts at least two exhibitions per year, in addition to student art showcases.
###
About Bowie State University
Bowie State University (BSU) is an important higher education access portal for qualified persons from diverse academic and socioeconomic backgrounds, seeking a high-quality and affordable public comprehensive university. The university places special emphasis on the science, technology, cybersecurity, teacher education, business, and nursing disciplines within the context of a liberal arts education. For more information about BSU, visit bowiestate.edu.