Bowie State to Offer First Fully Online Degree Programs in Spring 2022
Graduate Degrees in Education Now Enrolling First Students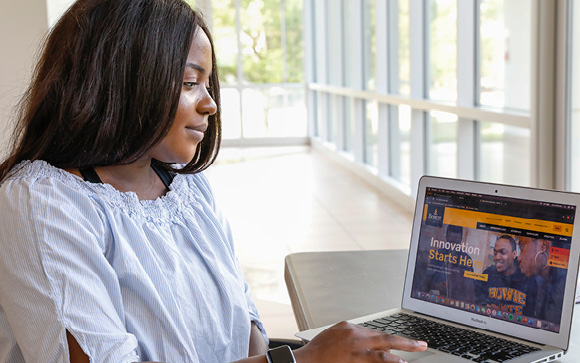 MEDIA CONTACT: Cassandra Robinson, crobinson@bowiestate.edu, 301-860-4336
(BOWIE, Md.) – The Bowie State University College of Education, building on its legacy as the first program at the university, leads the way into the future by offering BSU's first fully online degree programs beginning in the spring 2022 semester.
Bowie-are now accepting students into the cohort based online programs. Partnerships have been established with school districts in Maryland and Pennsylvania to enhance professional and leadership development of their local educators, but the new online offerings open the door for more students to opt in.
"These programs that we've traditionally offered in on-campus and hybrid formats have produced educational leaders in the classrooms and administrations of local school districts for many years," said Provost and Vice President for Academic Affairs Carl B. Goodman. "The addition of this new fully online option will enable educators in more distant school districts to the north, south or even far west to benefit from our research-based programs."
Goodman noted these programs are the forerunners of five additional program that will be available online in fall 2022. Two graduate programs, computer science and management information systems and three undergraduate programs, computer science, computer technology and criminal justice, are accepting applicants for fall enrollment. The undergraduate programs will primarily target adults seeking to change careers.
"This expansion of some of our strongest programs into the online modality is part of our strategic goal to diversify program offerings at Bowie State to better accommodate the varying needs of prospective students," said Goodman. "In addition to specifically redesigning the courses for online delivery, our faculty have undergone extensive professional development to enhance online teaching practices to improve student engagement, persistence and course completion."
Goodman said the cohort model was selected for BSU's initial online programs as it provides opportunities for students to move through the programs taking the same classes together. "The students get to know each other and develop a bond to support each other to succeed," he said. "That commitment to a supportive academic environment is at the core of the Bowie State University experience."
The doctorate degree program in educational leadership is designed for educators who are already serving in leadership roles in K-12, higher education and district level leadership. It focuses on applying analytics in educational management, instruction, communications, policy and organizational performance.
The master's degree in culturally responsive teacher leadership promotes equity, access and inclusivity in teaching, while helping educators become influential leaders in diverse learning communities. Students can complete this accelerated program in 12 months, with eight-week course sessions. Students pursuing the master's degree in reading education learn to guide and instruct different age groups and reading levels as they develop both literacy knowledge and pedagogical practices to use in the classroom and other settings as reading and literacy specialists.
Apply online for spring and fall enrollment. Applicants should indicate interest in online programs on the application.
###
About Bowie State University
Bowie State University (BSU) is an important higher education access portal for qualified persons from diverse academic and socioeconomic backgrounds, seeking a high-quality and affordable public comprehensive university. The university places special emphasis on the science, technology, cybersecurity, teacher education, business, and nursing disciplines within the context of a liberal arts education. For more information about BSU, visit bowiestate.edu.