Bowie State University Leads the Way in Public Health IT
$10M HHS Grant to Expand Public Health Workforce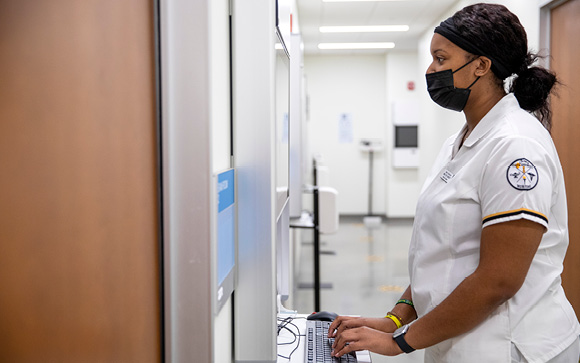 MEDIA CONTACT: Cassandra Robinson, crobinson@bowiestate.edu, 301-860-4336
(BOWIE, Md.) – Bowie State University is charting a path to become a thought leader in the public health space as it gains a seat at the table of national discussions of public health IT with a $10 million grant recently awarded by the U.S. Department of Health and Human Services (HHS)—the largest award to the school in two decades.
The university is one of 10 institutions forming a consortium to implement the Public Health Informatics & Technology (PHIT) Workforce Development Program funded by HHS' Office of the National Coordinator for Health Information Technology. The project aims to recruit, secure paid internships and train diverse groups of individuals in public health informatics and technology to improve the nations' public health workforce as identified in the Biden-Harris Administration's American Rescue Plan. The goal is to strengthen IT health education and to expand the IT health curricula at Minority Servicing Institutions, improve COVID-19 data collection, and increase representation of underrepresented communities within the field throughout the U.S.
"Through this partnership, Bowie State University will be known as a leading player in public health," said Gale Bassette, BSU Special Assistant to the Provost for Federal Contracts Administration. "We will play a major role in how this public health infrastructure will be delivered to the communities."
Over the course of four years, the PHIT Workforce Development Program nationally will train at least 4,000 individuals through an interdisciplinary approach to create a continuous pipeline of diverse public health IT professionals.
"This program will help to expand Bowie State's public health focus in our curriculum offerings," said Bassette. "BSU will create a pathway for students to be trained, recruited and placed in health informatics and technology careers. They will be mentored by healthcare institutions on real-world problems and participate in the building of the nation's future healthcare infrastructure."
In recent months, the university has experienced faculty and the administration coming together to pursue highly visible grant opportunities. "The collaboration across the university is really a plus," said Dr. Anika Bissahoyo, Assistant Director for Research, BSU Office of Research and Sponsored Programs. "We are increasingly seeing collaboration across the campus, which is exciting."
Ms. Bassette spearheaded the HHS grant proposal development process. Other contributors included Dr. Philip de Melo, principle investigator for the project and visiting faculty, Department of Computer Science; Dr. Birthale Archie, assistant professor, Department of Nursing; Dr. Brown-Robertson, special assistant for Research and Development, and professor in the data science and analytics program, College of Business; and Dr. Azene Zenebe, chairperson, Management Information Systems, and chair, public informatics program. Contributors from the Department of Accounting, Finance, and Economics included Dr. Augustin Ntembe, associate professor; Dr. Obeidat Rand, assistant professor; and Dr. Thaddee Badibanga, assistant professor. The Office of Research and Sponsored Programs provided pre-award and budget management and HealthCare Dynamics International will serve as subcontractor.
###
About Bowie State University
Bowie State University (BSU) is an important higher education access portal for qualified persons from diverse academic and socioeconomic backgrounds, seeking a high-quality and affordable public comprehensive university. The university places special emphasis on the science, technology, cybersecurity, teacher education, business, and nursing disciplines within the context of a liberal arts education. For more information about BSU, visit bowiestate.edu.