BSU Introduces New Aquaponics and Hydroponics Programs
Biology Students Prepare to Address World Hunger and Global Food Security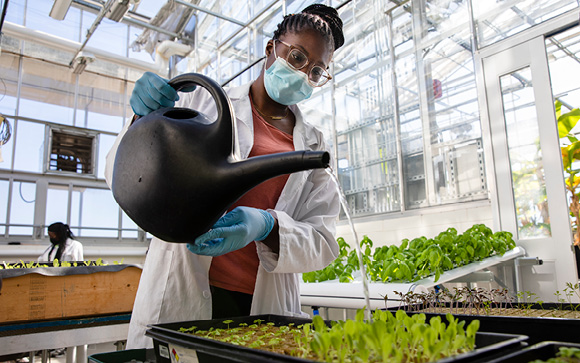 MEDIA CONTACT: Cassandra Robinson, crobinson@bowiestate.edu, 301-860-4336
(BOWIE, Md.) – Bowie State University natural science students are discovering the benefits of the soilless agriculture techniques of hydroponics and aquaponics, processes that can expand the capacity to feed the world as traditional agriculture faces growing challenges from climate change and labor shortages.
Crops of tomatoes, lettuce and basil are nearly ready to harvest in the BSU greenhouse atop the BSU Center for Natural Sciences, Mathematics and Nursing and recently planted seedlings have been added to an environment with tilapia fish. The goal is to simultaneously grow plants and fish in the same water-based agricultural system.
Bowie State's SMART Agriculture Program infuses hydroponics and aquaponics technology into the plant science curriculum. Dr. Anne Osano, associate professor, Department of Natural Sciences, leads the program along with department chair Dr. George Ude, and Dr. George Acquaah, dean, School of Arts & Sciences. Hydroponics is a technique used to grow and produce food crops in a closed-loop system that reduces the use of water resources without the need for chemical fertilizers. Aquaponics is the integrated culture of fish, plants and beneficial microorganisms grown in a soilless environment.
Dr. Osano explained that fish and plants grow in one ecosystem, eliminating the waste they separately produce by turning it into something of use. The waste created by the fish becomes a food source for beneficial microorganisms, which convert it into mineral nutrients for the plants. The plants act as a natural filter, cleaning the water for the fish. It's essentially zero-waste agriculture.
The program, focused on studying the production of superfoods without the use of traditional agriculture, is funded by a five-year grant from the National Institute of Food and Agriculture and the United States Department of Agriculture.
"This program is necessary because not everybody has so much land to produce their own food, and this technology is simple enough to help them become self-sufficient," said Dr. Osano, program director. "I tell these students, you may be just that person who is going to be instrumental in feeding the world someday. That's the reason we want them to get into agricultural jobs."
By 2050, food production must double to meet the demand of the world's growing population and innovative strategies such as soilless agriculture are needed to help combat hunger according to the United Nations and global food security experts. This unconventional way of growing crops and producing protein is ideal for gardening with small spaces of land or can be installed indoors, on rooftops, or in the backyards of urban areas.
Dr. Osano notes that the BSU SMART Agriculture Program was created to develop a pathway for BSU biology majors that leads to careers in food and agricultural sectors and graduate programs. She also plans to infuse entrepreneurship into the program to teach students that they not only have the ability to produce food, but become self-sufficient by selling it. Currently, crops from the greenhouse are shared among the students and faculty.
Aquaponics has health and nutritional benefits and is environment-friendly, because there are no soil pests, toxic wastes or chemicals. It's an excellent way of producing protein foods as there is no need to use artificial fertilizer. It also allows the gardener a higher yield, because crops grown in soilless methods grow faster than in other gardening methods.
"There's a tremendous need for minorities to be involved in agriculture and related sciences," said Osano who is also head of the Plant Metabolomics and Hydroponics Laboratory at BSU. "The university's main goal is to produce workforce ready students that are beneficial to the development of the nation. This program contributes to that, an agricultural workforce that can go out and produce their own food and start their own aquaponics garden."
###
About Bowie State University
Bowie State University (BSU) is an important higher education access portal for qualified persons from diverse academic and socioeconomic backgrounds, seeking a high-quality and affordable public comprehensive university. The university places special emphasis on the science, technology, cybersecurity, teacher education, business, and nursing disciplines within the context of a liberal arts education. For more information about BSU, visit bowiestate.edu.