Bowie State to Explore the Human Element in Cyber Security Careers
Local Colleges and High School Students Learn to Recognize Cyber Threats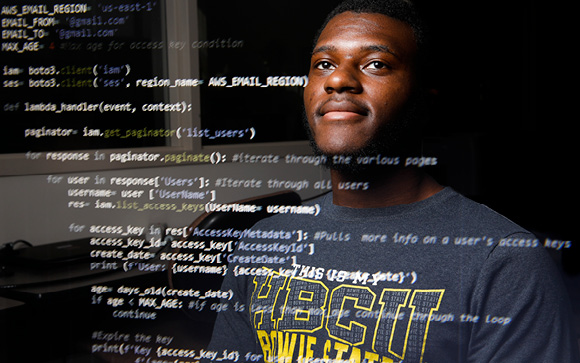 MEDIA CONTACT: Cassandra Robinson, crobinson@bowiestate.edu, 301-860-4336
(BOWIE, Md.) – The growing spread of malicious online content aimed at exploiting human vulnerabilities is a threat that everyone, adults and children, should be prepared to recognize to protect themselves and others. Cyber security experts from the Department of Defense and local cyber companies will heighten the awareness of university and public school students to online dangers and opportunities for careers to work on the front lines of cyber defense in many industries during an annual Cyber Day event hosted by Bowie State University.
The Center for Cyber Security and Emerging Technology at Bowie State University will engage students to explore the human element in cyber security in a virtual workshop Cyber: A Career without Borders. Set for Thursday, October, 28, 2021, 11:30 a.m. - 3:00 p.m., the workshop targets students from Maryland historically black colleges and universities and high school students from Prince George's County Public Schools but is open to other university students. Participants must register to attend.
Students will learn about popular social media platforms and common misconceptions about privacy, responsibility, and safety in a panel discussion on Cyberspace Social Media: The Law, the Tech, and the Human Element. Industry partner and advocate for cybersex trafficking awareness, Protect Us Kids, will present on the dangers and warning signs of human and child trafficking.
"The human part is the most important element in any level of security," said Dr. Jie Yan, professor in the BSU Department of Computer Science. "Cyber security breach happens everywhere and people are curious. It is important that we expose students to the potential threats and how to recognize them."
Cyber is integrated in every part of society including the arts, law enforcement, healthcare, and education. As Bowie State University aims to create a pipeline and become a conduit to a diversified cyberspace workforce, students will also learn about diverse cyber careers in private for-profit, non-profit, and public sectors. A panel discussion on the Human Dimension of Cyber will feature industry partners Baltimore-based TCecure and the Department of Defense.
"We want to bring some fundamental information to our students, engage them and encourage them to look deeper in this field," said Yan. "How cyberspace is used will not be determined by bots, but by humans. The diversity of threats and challenges regarding cyber require a diversity of thought and people like our talented students."
The annual Cyber Day event began in 2019 and this year attendance is expected to double and attract between 300 and 500 participants.
###
About Bowie State University
Bowie State University (BSU) is an important higher education access portal for qualified persons from diverse academic and socioeconomic backgrounds, seeking a high-quality and affordable public comprehensive university. The university places special emphasis on the science, technology, cybersecurity, teacher education, business, and nursing disciplines within the context of a liberal arts education. For more information about BSU, visit bowiestate.edu.