Bowie State University to Participate in National HBCU Initiative to Connect Students' Education and Aspirations
$25 Million Grant from Strada Education Network Supports 28 HBCUs to Scale Experiential Learning and Leadership Development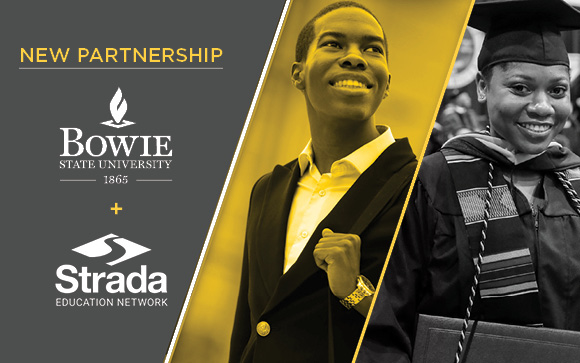 MEDIA CONTACT: Cassandra Robinson, crobinson@bowiestate.edu, 301-860-4336
(BOWIE, Md.) – Bowie State University today announced its participation in an ambitious new initiative that joins 28 Historically Black Colleges and Universities and Strada Education Network, a nonprofit social impact organization dedicated to increasing individuals' economic mobility by fostering more purposeful connections between education and work. The initiative, powered by an initial $25 million grant from Strada, is designed to support the work of HBCUs in developing the next generation of leaders.
"We are pleased to have been invited by Strada Education Network to play a role in shaping this initiative. Our institution has a proud history of supporting and graduating students who go on to be leaders, innovators, and changemakers in our community," said BSU President and Strada Trustee Aminta H. Breaux. "What has resulted is a program that enables us to maximize the unique contributions of HBCUs across the country by providing students with experiences that strengthen the connections between their education and their future aspirations."
Over the past year, Bowie State participated in a series of conversations with Strada Education Network to identify both needs and opportunities to accelerate economic mobility for HBCU students. The resulting initiative will focus on leadership development and provide students with scholarships and financial support to defray some of the costs of participating in internships. It also will help students build their professional networks and prepare them to launch their careers or explore graduate schools. Rather than establishing a new program, the initiative was designed to augment BSU's existing career and leadership development programs, which combine students' academic learning with career goals and leadership aspirations.
Three Bowie State students will participate in the inaugural 2021-22 Strada Scholars cohort. Selected students will receive a renewable scholarship and support for their participation in internships. The scholars also will participate in a yearly leadership development retreat designed for HBCU students.
"This initiative builds on our long-standing dedication to identifying systematic and sustainable strategies to help more Americans achieve better life outcomes for themselves, their families, and their communities through postsecondary education," said Marshall Grigsby, Strada trustee and former HBCU president, provost, and faculty member. "Black colleges have a profound, positive influence in communities, for alumni, and students who, in turn, have the potential to make a positive difference in our society. We hope to expand this work with an even broader cohort of institutions in years to come."
Grigsby and Breaux co-chair the Strada HBCU Advisory Council, a group of HBCU leaders who collaborated to create the initiative. Those leaders include:
Roslyn Clark Artis, president of Benedict College

Clarence D. "Clay" Armbrister, president of Johnson C. Smith University
Leonard Haynes, former U.S. assistant secretary for postsecondary education and former acting president of Grambling State University
Adena Williams Loston, president of St. Philip's College
Quinton T. Ross Jr., president of Alabama State University

"This partnership has been inclusive and collaborative from the beginning," said Clark Artis. "Together, we've integrated feedback from nearly a third of the nation's HBCUs in designing this student-centered program and convened a strong group of presidents to shape the relationship."
This year, 28 HBCUs will join the initiative and take part in the Strada Scholars cohort. In future years, Strada plans to expand the initiative beyond the initial institutions to as many HBCUs as have interest in participating.
Learn more about the initiative here.
###
About Bowie State University
Bowie State University (BSU) is an important higher education access portal for qualified persons from diverse academic and socioeconomic backgrounds, seeking a high-quality and affordable public comprehensive university. The university places special emphasis on the science, technology, cybersecurity, teacher education, business, and nursing disciplines within the context of a liberal arts education. For more information about BSU, visit bowiestate.edu.



About Strada Education Network
Strada Education Network is a new kind of nonprofit social impact organization, dedicated to increasing individuals' economic mobility through purposeful connections between education and employment. Our approach combines innovative research, thought leadership, strategic philanthropy and investments, and support for individuals through student coaching, work-based learning, career exploration, and helping adults learn new skills throughout their careers. Together, we work to better serve the millions of Americans seeking to complete postsecondary education and training, gain clear value from those experiences, and build meaningful careers. Learn more at stradaeducation.org.