HBCU Nursing Students to Get Assist in Transition to First Clinical Positions
National League of Nursing Launches Program with Johnson & Johnson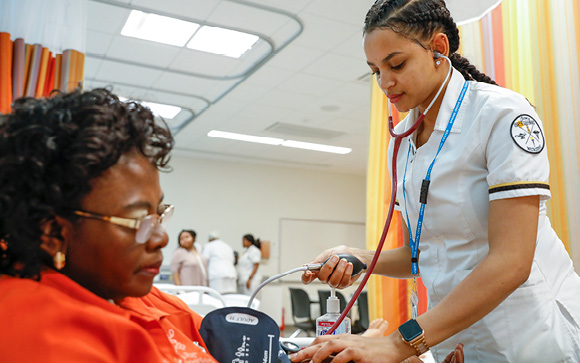 MEDIA CONTACT: Cassandra Robinson, crobinson@bowiestate.edu, 301-860-4336
(BOWIE, Md.) – Bowie State University senior nursing students will soon get a head start developing leadership and workplace skills to help ensure greater success as they enter their first positions in the field thanks to a new program announced by the National League of Nursing in partnership with Johnson & Johnson.
The program, Transitioning Senior Nursing Students in Historically Black Colleges and Universities (HBCUs) into Clinical Practice, will bring a year long, multi-faceted program in leadership development to BSU and five other HBCUs that offer four-year baccalaureate degrees in nursing. Senior nursing students and nurse educators will be selected to participate. The program aims to expand diversity and improve retention of young nurses as one step in addressing some of the strains on America's health care system.
"BSU's Department of Nursing is honored to be included in this partnership of two major organizations. The NLN/J&J initiative affords our nursing students an opportunity for leadership development that will aid them as they transition into practice," said Dr. Jacqueline Hill, department chair. "This experience will have a life changing impact for the graduates in the areas of organizational skills and critical thinking and the initiative also helps faculty develop expertise in coaching that they can utilize in preparing future nursing leaders."
Johnson & Johnson is supporting this project as part of its $100 million commitment over the next five years to invest and promote health equity solutions for Black and other communities of color. Other institutions identified for the program are:
Alcorn State University, School of Nursing
Coppin State University, College of Health Professions
Howard University, College of Nursing and Allied Health Sciences
Norfolk State University, Department of Nursing,
University of the District of Columbia, Nursing Programs
The program will feature two strategic components: the Student Leadership Development Program for senior nursing students and the NLN Faculty Coaching for Excellence Course. Students will be prepared for smooth transition into clinical practice armed with leadership and professional team skills like communication, decision-making, and conflict resolution as well as skills to manage organizational culture and politics.
###
About Bowie State University
Bowie State University (BSU) is an important higher education access portal for qualified persons from diverse academic and socioeconomic backgrounds, seeking a high-quality and affordable public comprehensive university. The university places special emphasis on the science, technology, cybersecurity, teacher education, business, and nursing disciplines within the context of a liberal arts education. For more information about BSU, visit bowiestate.edu.