Digital Tech Credential Helps Prepare Women and Minorities for Today's Jobs
10 BSU Students to Receive $2,500 Scholarships from Capital CoLAB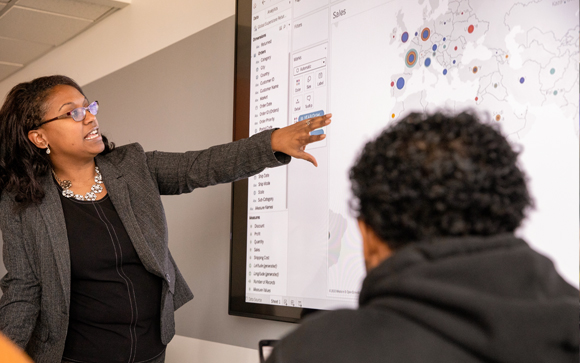 MEDIA CONTACT: Cassandra Robinson, crobinson@bowiestate.edu, 301-860-4336
(BOWIE, Md.) – Bowie State University students now have the opportunity to earn a digital tech credential to better position them to secure career opportunities with companies in the D.C. region, and qualify for a $2,500 scholarship from Capital CoLAB, a tech-focused initiative of the Greater Washington Partnership of area businesses and institutions.
In an effort to fill the tech skills gap in the surrounding areas of Washington, D.C., Baltimore, and Richmond, Capital CoLAB has launched the Digital Tech Credential Scholarship for Minorities and Women. The application deadline is January, 14, 2022.
Bowie State received a $25,000 grant to support 10 students' pursuit of the digital tech credential, a pathway created by the CoLAB to give undergraduate minority and women students in any major a formal way to show employers they are prepared for 21st century roles in areas like data, cybersecurity and AI/machine learning. The CoLAB worked with local employers to identify the knowledge, skills and abilities (KSAs) that they are seeking when sourcing new talent.
Bowie State's College of Business mapped the learning outcomes of three courses in the data analytics concentration to the Greater Washington partnership's KSAs. Students from any major can take the courses, data science and analytics, business statistics, and data science for visualization, to attain the credential. Those who successfully pass the classes and produce an ePortfolio of their work demonstrating the acquired knowledge will earn the digital badge that can be added to their LinkedIn profile or resume.
"There is a great need for more minorities and women to acquire the skills within data science and analytics. Giving them the fundamental understanding and exposure to pursue the generalist badge and the scholarship will help to fulfill a tech skills gap within the marketplace," said Dr. LaTanya Brown-Robertson, special assistant for research and development, BSU College of Business. "The jobs now are data enabled, regardless of the student's major, and having the digital credential shows that they have taken all of the steps to at least have the foundational knowledge of data science and analytics."
Students who receive the scholarships will interact with each other as a cohort and take part in programming to connect with employers. The CoLAB will work with students and employers to make sure the firms that are hiring can be aware of the skills they've gained.
###
About Bowie State University
Bowie State University (BSU) is an important higher education access portal for qualified persons from diverse academic and socioeconomic backgrounds, seeking a high-quality and affordable public comprehensive university. The university places special emphasis on the science, technology, cybersecurity, teacher education, business, and nursing disciplines within the context of a liberal arts education. For more information about BSU, visit bowiestate.edu.