Rocket Mortgage & HomeFree-USA Partners with BSU in Pledge to Hire HBCU Talent
Bowie State is One of Six HBCUs in HomeFree-USA's Center for Financial Advancement®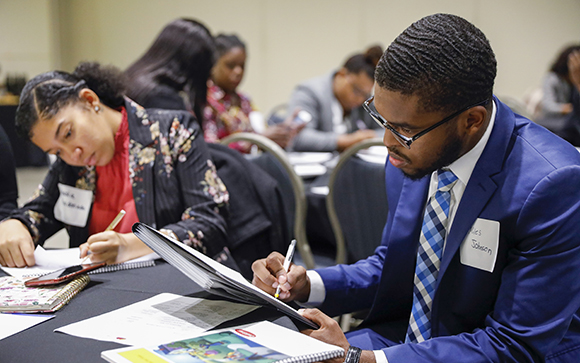 MEDIA CONTACT: Damita Chambers, dchambers@bowiestate.edu, 301-832-2628 mobile
(BOWIE, Md.) – Rocket Mortgage is building a pipeline for diverse new talent for the company and its affiliates by expanding its partnership with Bowie State University and five other historically Black colleges and universities (HBCUs) through HomeFree-USA's Center for Financial Advancement® (CFA).

Rocket Mortgage commits to hire 10% of its future interns from HBCUs, with the goal of bringing many of them on as full-time team members.

Expanding the organizations' HBCU partnership for financial education and career preparation means that Bowie State students participating in HomeFree-USA's CFA program will have greater access to internships and full-time jobs, advancing inclusion for HBCU students in a field where they are traditionally underrepresented. In addition to Bowie State, the partnership commitment extends to Fisk University, Fort Valley State University, Morgan State University, North Carolina A&T State University and North Carolina Central University.

A CFA Scholar with HomeFree-USA, Bowie State senior Danae Stewart used her experience in the program to build her leadership and financial skills, leveraging her connection to the organization as she seeks full-time employment after graduation.

"Growing up, I honestly don't know if my parents owned our home. I know a lot of other people who were in the program whose parents don't own a home either," said Stewart. "So I learned that no matter where you come from or what race you are, it's always possible to be financially stable and to own a home."

Cultivating Diverse Talent

Rocket Mortgage and HomeFree-USA will leverage the CFA to bring diverse talent to Rocket Companies. The two organizations also work together to provide tools and opportunities to prospective homebuyers to bridge the Black homeownership gap, collaborate on numerous financial information programs, and offer educational initiatives to HBCUs.

"Diversity, equity and inclusion are core tenets of our culture – existing beyond the lens of homeownership by informing everything we do and every space our organization touches," said Trina Scott, chief diversity officer for Rocket Companies. "This expanded partnership will provide Black and other students of color with financial education programming and training, as well as allow them to access meaningful opportunities to join our organization in whatever role best suits their talents and skillsets."

The Black-founded HomeFree-USA launched its flagship education initiative, the CFA, after a 2016 study that said although more African Americans than ever are going to college, Black students are still overrepresented in majors that result in the lowest-paying jobs. CFA introduces HBCU students to career opportunities in the mortgage and real estate finance industry and elevates their money management skills, while teaching them about homeownership, credit and building wealth. Sponsoring partners engage students, faculty, parents and the local community at-large on such topics as credit, student loans, savings, homeownership and career opportunities in mortgage finance.

"Partnering with companies like Rocket Mortgage allows us to continue this important work of diversifying talent in corporate America while providing much needed financial literacy to our students at historically Black colleges and universities," said President and CEO of HomeFree-USA Marcia Griffin, an alumna of two HBCUs. "Very few mortgage and real estate finance corporations and financial institutions have internship programs that aggressively recruit directly from HBCUs. This must change. Students at historically Black colleges and universities are among the best America has to offer."
###
About Bowie State University
Bowie State University (BSU) is an important higher education access portal for qualified persons from diverse academic and socioeconomic backgrounds, seeking a high-quality and affordable public comprehensive university. The university places special emphasis on the science, technology, cybersecurity, teacher education, business, and nursing disciplines within the context of a liberal arts education. For more information about BSU, visit bowiestate.edu.

About Quicken Loans/Rocket Mortgage
Detroit-based Quicken Loans, the nation's largest home mortgage lender and a part of Rocket Companies (NYSE: RKT), enables the American Dream of homeownership and financial freedom through its obsession with an industry-leading, digital-driven client experience. $213 billion of mortgage volume across all 50 states in the first three quarters of 2020. In late 2015, Quicken Loans introduced Rocket Mortgage, the first fully digital mortgage experience. Currently, 98% of all home loans originated by Quicken Loans utilize Rocket Mortgage Technology.

Quicken Loans was once again named to FORTUNE magazine's "100 Best Companies to Work For" list in 2020 and has been included in the magazine's top third of companies named to the list for the past 17 consecutive years. In addition, Essence Magazine named Quicken Loans "#1 Place to Work in the Country for African Americans."

For more information and company news visit QuickenLoans.com/press-room.

About HomeFree-USA/The Center for Financial Advancement®
HomeFree-USA is a Black-founded nonprofit started by Marcia and Jim Griffin in 1994 with a vision to close the homeownership gap by giving African-Americans the guidance they need to achieve and sustain homeownership. As a HUD-intermediary, HomeFree-USA serves the diverse interests of 4.5 million consumers through its nationwide network of 50 plus affiliated, community-based, nonprofits that specialize in guiding people to first-time homeownership, homeownership sustainability, and increased financial capacity.

HomeFree-USA launched the Center for Financial Advancement® (CFA) as a solution to the industry's call for more diversity. HomeFree-USA partners with, trains, and provides HBCU students for externships, internships and full-time jobs in partnering mortgage and real estate finance companies. Participating CFA Scholars are exposed to credit, money management, leadership development, and homeownership, creating the next generation of leaders and homeowners. For more information, visit homefreeusa.org/cfa.