U.S. News & World Report Ranks Bowie State Among Top 25 HBCUs
Bowie State Honored for Educational Quality & Success in Aiding Students with Need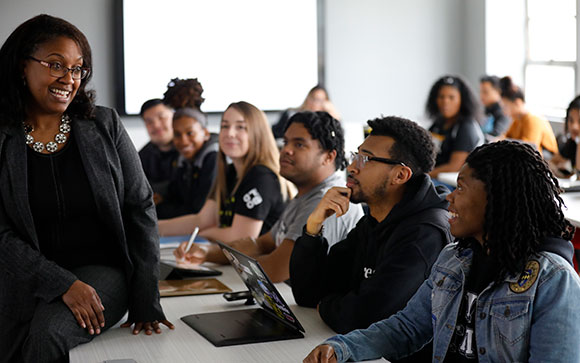 MEDIA CONTACT: Cassandra Robinson, crobinson@bowiestate.edu, 301-860-4336
(BOWIE, Md.) – Recognizing its educational quality, Bowie State University improves its standing among the nation's top historically black colleges and universities and continues to rank among the best schools in serving students with financial need, according to the U.S. News & World Report's 2022 Best Colleges list.

Since last year, the university improved to #24 on the list of the nation's outstanding HBCUs and ranks #76 among the Top Performers on Social Mobility list for success in serving students with financial need. Each year, U.S. News & World Report continues to recognize Bowie State among the best regional universities that offer a full range of undergraduate majors, plus master's and doctoral programs. BSU programs in nursing and computer science were also recognized this year.

For the HBCU ranking, the publication uses nearly all the same indicators as it does for its regional universities list, but with slightly different weights. It also assesses the results of a separate peer survey for HBCU administrators.

The best undergraduate nursing and computer science lists recognize academic quality of accredited programs based on the peer evaluations of deans and faculty of peer institutions in those programs.
The social mobility honor highlights Bowie State's success in serving large numbers of students with federally funded Pell Grants, typically awarded to those with family incomes under $50,000. Most Pell Grant recipients are students whose family household income is below $20,000.

Rankings like the U.S. News & World Report list reaffirm the high quality of a Bowie State University education.
###
About Bowie State University
Bowie State University (BSU) is an important higher education access portal for qualified persons from diverse academic and socioeconomic backgrounds, seeking a high-quality and affordable public comprehensive university. The university places special emphasis on the science, technology, cybersecurity, teacher education, business, and nursing disciplines within the context of a liberal arts education. For more information about BSU, visit bowiestate.edu.