$42M Entrepreneurship Living Learning Community Opens at BSU
Entrepreneurship Hub Prepares Students to Become Real-world Problem Solvers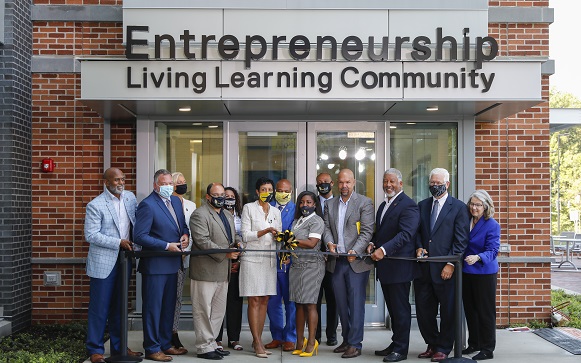 MEDIA CONTACT: Cassandra Robinson, crobinson@bowiestate.edu, 301-852-9311

(BOWIE, Md.) – Bowie State University opened a new $42 million Entrepreneurship Living Learning Community (ELLC) today, creating an environment where the spirit of innovation and collaboration can thrive to support development of student start-up businesses and growth of an entrepreneurial mindset across the campus.
A real-world innovation hub, the ELLC is designed to inspire and make entrepreneurship accessible to BSU students across all disciplines. With residential space for 557 students, the facility will offer a co-working environment for BSU's early-stage startups with training and mentors on-site to enable students and faculty to scale their businesses.
"This new venue will bridge learning environments between the classroom and the larger entrepreneurship ecosystem," said BSU President Aminta H. Breaux. "It was designed to deepen and enhance the student learning experience. The overarching vision is to have programs and learning environments to help every student here graduate with an entrepreneurial mindset."
Experiential programs across the campus and community partners will prepare students to become real-world problem solvers as they navigate into careers as future business leaders and entrepreneurs.
The six-story, mixed-use ELLC includes an Entrepreneurship Innovation Center, housing the Entrepreneurship Academy, a resource for developing student entrepreneurs, and the Bowie Business Innovation Center, an accelerator for local startup businesses in Prince George's County. Since its inception in 2017, the Academy has helped launch 57 student businesses. During the 2021 fiscal year, the Bowie BIC served 75 local start-up businesses.
"Today, we join with the university's Entrepreneurship Academy in calling the new Entrepreneurship Living Learning Community home, and creating the region's newest entrepreneurship and business acceleration hub, a tremendous asset for the region, the state and the nation," said Sherman Ragland, Board of Directors Chair, Bowie Business Innovation Center.
The numerous resource partners supporting the ELLC will bring the university and the Prince George's County business community together as part of the region's growing entrepreneurial ecosystem.
To access the ELLC Digital Media Kit, click on Explore the ELLC, ELLC photos and ELLC Fact Sheet. Tours of the building can be arranged.
###

About Bowie State University
Bowie State University (BSU) is an important higher education access portal for qualified persons from diverse academic and socioeconomic backgrounds, seeking a high-quality and affordable public comprehensive university. The university places special emphasis on the science, technology, cybersecurity, teacher education, business, and nursing disciplines within the context of a liberal arts education. For more information about BSU, visit bowiestate.edu.